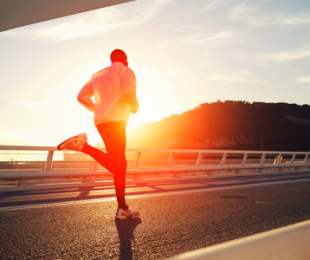 Would it surprise you to hear that men on average die five years sooner than women but also lead women in eight out of the ten leading causes of death in the United States?
It's true! But while medical advances, exercise and healthy eating are increasing year after year, men still are not keeping up with women when it comes to living longer.
That's why, this year, we are taking a look at how men can help close the health gender gap.
So, what can men do to live longer?
Curb Stress
We all know the type: men who are always on time, highly competitive and obsessed with meeting goals. Considered the Type A personality, they arrive early and are ready to get things done. But did you know the Type A personality has long been considered a risk factor for heart disease? In fact, the originators of personality types were cardiologists who were studying heart disease – the leading cause of death in men.
Reducing anxiety in your life and talking with your doctor regularly can go a long way in extending your life. Finding solutions to relieve stress can help reduce hypertension (high blood pressure), a leading risk factor for heart disease and stroke. And remember, exercise is not only good for overall health, it is great for reducing stress.
Communicating with the Doctor Can Help Men Live Longer
Some men might hesitate to talk with their doctors, but would do well to remember this is one area where DIY might not cut it.
Your doctor can help you craft a strategy to manage the stress in your life and also stick to an exercise routine. You can also talk to your doctor about monitoring your blood pressure and cholesterol levels – indicators that could provide insight into your health risks.
Remember to take any medicines your doctor has prescribed to you, as they are instructed. Missing or skipping doses can be harmful to your health, so make sure you have a plan if you're a man without insurance or is underinsured. The Partnership for Prescription Assistance's free search tool can help you search for patient prescription assistance programs and find free or low-cost clinics.
Give Up on Being Perfect and Start Now
There's a strong link between perfectionism and procrastination, and fear of failure can stop men from taking the leap for better health. This is called "perfectionist procrastination paralysis." Giving up on being perfect and starting now may help you achieve your health goals and live longer. Give yourself multiple chances to succeed. Encourage yourself if you miss a milestone or don't achieve your goal the first time.
Here are some things to start right now:
Visit the doctor regularly
Pay attention to what you eat
Start an exercise routine
Ultimately, it's more important that men do these things rather than do them perfectly the first time. Just starting a routine will ultimately create sustainable, lifelong healthy habits that can help men live longer, happier lives.
If you or someone you love struggles with affordable access to medicines, there are resources available that may be able to help: The Partnership for Prescription Assistance (PPA) helps connect patients with patient assistance programs that provide free or nearly free prescription medicines. For more information, visit www.pparx.org.
Image - Gaudilab/Shutterstock.com